Dust (2001)
Milčo Mančevski establishes new guidelines for independent movie makers, successfully balancing between Hollywood commercial and the independent art film. Only few compromises and hybrids like this have proven worth filming (and watching) and I was pleasantly surprised with the outcome.
First of all, there was the careful choice of names - Luke and Elijah (biblical names) opposed to the prostitute Lilith (female demon). No wonder that Lilith was in so many ways connected with water and finally she drowned. Than, there's Neda (from an old Macedonian poem "Serdarot" by Grigor Prličev, awarded first prize at Athens). Then, a thing which impressed me was the short appearance of certain characters like Sigmund Freud, Pablo Picasso and Josip Broz Tito. Mančevski has used his old "trick" from his first film "Before the Rain" - non-linear time, but while in "Before the rain" the explanation was "The circle is not round, time never dies" in "Dust" it is "The centuries do not follow up each other but coexist like parallel universes".
Repentance was an important motif in the movie, especially the repentance of Luke and Edge.
Certain scenes have moved me, the scene in the hospital when Angela dies and the nurse is asking Edge what is he to her... The scene in Macedonia, when the women are laundering the carpets on a rocky waterfall (Mariovo)... And another thing - me as a Macedonian have always been brought up with the notion that our freedom fighters were noble men who were usually victims of blood thirsty Turks, but this movie had an interesting point that they were all butchers and murderers whose only lust is not freedom or fight against oppression but GOLD!
Probably this movie doesn't have the prophetic touch of "Before the rain" clearly displayed in the current political situation in Macedonia, but there's again the scene with Albanian gangs killing innocent Macedonian cattle breeders.
And another thing - both Angela and Luke are mocking the official clerical (church) "authorities", when Angela refuses the confession of the catholic priest on her death bed and when Luke kills the local orthodox priests offering assistance in the negotiations with the Turks (by the way, the priest is a traitor, which questions another illusion of mine and my generation - that the priests and the Church have been very active in protecting the Macedonian villagers from oppression and torment).
I know one thing for sure - that as soon as I am able I will use my proud privilege to be a Macedonian and visit Mariovo, where a part of the movie was made, and especially the bridge where the Turks attempted to pass so many times during the 17-th century and did not succeed.
The tension seems to fade at some points and that's why the rate of "9" form my user's vote, but still, this is an excellent complete product, made with the touch of perfect craftsmanship.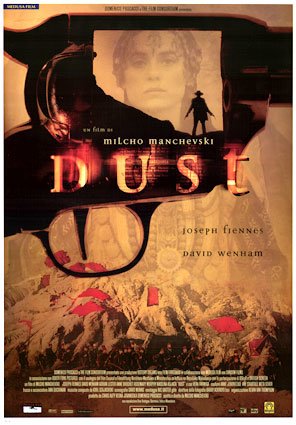 Directed by
Milčo Mančevski
Writing credits
Milčo Mančevski
Cast (in credits order)

Joseph Fiennes

....

Elijah

David Wenham

....

Luke

Adrian Lester

....

Edge

Anne Brochet

....

Lilith

Nikolina Kujaca

....

Neda

Rosemary Murphy

....

Angela

Vlado Jovanovski

....

Teacher

Salaetin Bilal

....

The Major

Vera Farmiga

....

Amy

Matt Ross (I)

....

Stitch

Meg Gibson

....

Bone

Tamer Ibrahim

....

Kemal

Vladimir Jacev

....

Spase

Vladimir Gjorgjijoski

....

Enver

Zora Georgieva

....

Maslina

Jordan Simonov

....

Iorgo

Josif Josifovski

....

Priest

Joe Mosso

....

Church bell

Sandra McClaine

....

Nurse

Nick Sandow

....

White trash

Bruce MacVittie

....

Paramedic

Tom Strauss

....

Catholic Priest

Milica Stojanova

....

Dosta

Stanko Stoilkov

....

Godfather

Petar Mircevski

....

Foreign priest

Mladen Krstevski

....

Mirko

Stojan Arev

....

Slavejko

Pavle Dameski

....

Krste

Martin Mircevski

....

Simeon

Danilo Mandic

....

Flute boy

Krste Jovanovski

....

Mace man

Rubens Muratovski

....

Sailor

Judith Windsor (II)

....

The Madam

Randy Duke

....

Sheriff

Afrodita Atanasova

....

Catherine

Jon Ivanovski

....

Sigmund Freud

Blagoja Micevski

....

Painter

Elena Mosevska

....

Sam

Jordanka Todorova

....

Judy

Boris Corevski

....

Sharpshooter

Blagoja Spirkovski-Dzumerko

....

Perus

Norman Naudain

....

Doctor

Sabedin Selmani

....

Arnaut

Sefedin Nuredini

....

Arnaut

Fehmi Grubi (II)

....

Arnaut

Vebi Kerimi

....

Arnaut

Adrian Aziri

....

Arnaut

Koljo Cerkezov

....

Arnaut

Vladimir Endrovski

....

Andart (as Vladimir Endrovski-Ljac)

Vanco Melev

....

Andart

Aleksandar Rusjakov

....

Andart

Vladimir Gjuzelov

....

Andart

Dimitar Nikolov-Taki

....

Andart

Branko Beninov

....

Ottoman soldier

Riad Tahir

....

Ottoman soldier

Vanco Krstevski

....

Ottoman soldier

Erduan Maksut

....

Ottoman soldier

Atila Klince

....

Ottoman soldier

Jean Francois Guissouegou

....

Ottoman soldier

Alen Nanov

....

Ottoman soldier

Ivan Jercik

....

Ottoman soldier

Vasko Milhajlov

....

Ottoman soldier

Igor Stojcevski

....

Ottoman soldier

Srdjan Milosevic

....

Ottoman soldier

Neat Ali

....

Ottoman soldier

Dzemail Maksut

....

Komitas

Branko Koncaliev

....

Komitas

Slave Miceski

....

Komitas

Atanas Georgiev (II)

....

Komitas

Srebre Gjakovski

....

Shepherd

Najdo Todeski

....

Shepherd

Petar Dimoski

....

Shepherd

Dimitar Vandeski

....

Shepherd

Andon Jovanoski

....

Shepherd

Trajce Ivanoski

....

Shepherd

Kiril Gravcev

....

Shepherd

Blagoja Lefteroski

....

Shepherd

Igor Dimitrov

....

Shepherd

Tinka Risteska

....

Villager

Andrijana Boskoska

....

Villager

Miliana Dodevska

....

Villager

Lidija Ivanovska

....

Villager

Kire Georgiev

....

Villager

Marjan Cakmakoski

....

Villager

Tajce Kalcoski

....

Villager

Kristijan Risteski

....

Villager

Radica Zdravevska

....

Villager

Ratka Radmanovic

....

Brothel

Sonja Osavkova

....

Brothel

Siuciuan Hsu

....

Brothel

Katarina Ilievska

....

Brothel

Lidija Lea Stojanovska

....

Brothel

Natasa Zlatevska

....

Brothel

Irena Trajkova

....

Brothel

Angela Visnjevskaja

....

Brothel

Cvetanka Velevska

....

Brothel

Vanja Dimitrova

....

Brothel

Dorian Trajkov

....

Brothel

Vladimir Jordanov

....

Brothel

Filip Todorov

....

Brothel

Milanco Georgiev

....

Photographer at wedding

Gjorgji Usta Petrov

....

Priest at wedding

Dzemail Demir

....

Native American

Ismet Ali

....

Native American

Goce Naumov

....

Native American

Carlton Jarvis

....

Code Blue Doctor

rest of cast listed alphabetically

Louise Goodall

....

Young Angela

Zoran Ljutkov

....

Ottoman soldier
Produced By:

Chris Auty

....

producer

Lars Bloch (III)

....

associate producer

Steve Clark-Hall

....

supervising line producer

Richard Dooley

....

line producer

Frank Dragun

....

line producer

Vesna Jovanoska

....

producer

Domenico Procacci

....

producer

Gjorgji Simeonov

....

associate producer

Branislav Brana Srdic

....

line producer

Kevan Van Thompson

....

coordinating line producer
Original Music By:
Kiril Dzajkovski