Joachim Krcovski
About Joakim Krcovski
Joakim Krcovski ... This name signifies the beginning of the Macedonian literature written in popular language. He lived and worked at the end of the 18th and the beginning of the 19th century, but there are no information about where and when he was born and died.
Joakim Krcovski work
The first work written by Joakim Krcovski is "Slovo iskazanoe zaradi umiranie". Although printed anonymously in 1814, in Budim, according to the style and language it is considered to have been written by Joakim Krcovski. This was the first book printed in Macedonian popular language. Several works followed:
"Povets radi strasnago",
"Vtorago Prisastvija Hristova",
"Sija kniga glagolaemaja mitarstva",
"Cudesa presvatja Nogorodici" and the latest one,
"Razlicna poucitelna nastavlenija".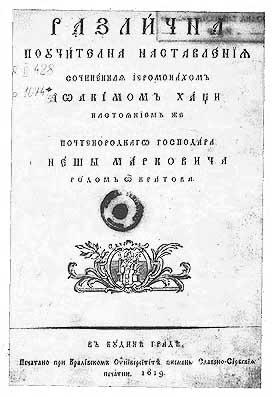 "Art of Joachim Krcovski"
The works written by Joakim Krcovski played an essential role in the religious and ethical education of the Macedonian population in the first half of the 19th century.
He popularized the Christian humanism and stood up for brotherhood, love and mutual assistance among the people. These works are not original, but represent narration and interpretation of various religious texts. They are important as they are written in popular language, and discover Krcovski's comprehension - The Church Slavonic Language to be substituted by the Popular.