Tumba Madzari
About Tumba Madzari
Tumba Madzari, is a settlement from the Neolithic period. It is located in the north-eastern part of Skopje, in the eastern parts of Skopje, Metodija Andonov - Čento and Madzari 2, near the football stadium around 700 meters from the well known highway M-3 (Skopje - Petrovec).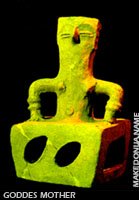 v represents a small hill with dimensions in the base 228 meters and 3 meters high. In the period before the earthquake in Skopje, before 1963, this land was used as an farmland, even Tumba Madzari was easy seen. Later after the earthquake were built this modern municipalities and there was uncontrolled building everywhere so the hill got in a not looking phase. In the period after 1978 the Museum of Macedonia makes researches and makes protection for this locality. The researches discovered that this site was a different periods living place. From 1981, were made several systematic researches, who stands until the year 1990. The area which was researched was around 1,400 square km. There were discovered 7 objects, 6 houses and 1 sanctuary. Almost in all of them were found places for fire, and things with materialistic culture. Sure most of things were made of ceramics, decorated as well as possible in that period and painted brown above red base.
Also, on these subjects were painted symbols like ware, rain... and other connected to the that period. Beside the ceramics, were discovered cult plastic. Also from this site, was found the famous and well known to the Macedonians, the great goddess of the production, which represents unique, thing for the other sites from this period.