Macedonian elections 1998
The third parliamentary elections in the Republic of Macedonia, which were held on October 18, 1998 included the participation of 30 political parties, 8 coalitions, 1 group of voters and 9 independent candidates. A total of 1,572,975 voters were included in the Voter List. Liljana Ingilizova- Ristovska was the President of the State Election Commission. A total of 185 international observers monitored the elections. The campaign lasted for 40 days. The Members of Parliament were elected according to a new election regulative- 85 were elected according to the majority election model, while 35 according to the proportional model. The 120 Members of Parliament were elected out of the 1,218 candidates- 595 at the proportional list and 623 at the majority list.
Results of the proportional list: VMRO-DPMNE - 312,627 - 28,10%; SDSM - 279,799 - 25,14%; PDP, DPA and National Democratic Party - 214,360 - 19,26%; Democratic Alternative - 119,352 - 10,73%; LDP and DPM - 77,778. Members of Parliament: VMRO-DPMNE - 49; DA - 13; SDSM - 27; PDP - 14; DPA - 11; LDP - 3; SP - 1; Roma Alliance - 1. Additionally, voting for another Member of Parliament was carried out on November 15. Ljubco Georgievski was given the mandate from the President to assemble the new Government cabinet. The new Macedonian Government was consisted of Ministers of coalition VMRO-DPMNE, DPA and Democratic Alternative.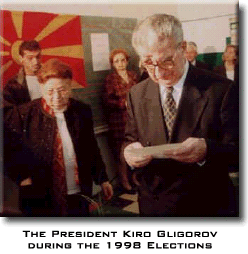 Government Ministers:
VMRO DPMNE: Dosta Dimovska - Vice Premier; Boris Stojmenov - Finance Minister; Nikola Kljusev - Defence Minister; Dimitar Dimitrov - Minister of Culture; Georgi Boev - Minister of Sport and Youth; Dusko Kadievski - Minister of Urbanism and Building; Vladimir Dzabirski - Minister of Agriculture; Stojan Bogdanov - Minister of Health; Nenad Novkovski - Minister of Education; Nikola Gruevski -M inister of Trade; Milijana Danevska - Minister of Development; Martin Trenevski - Minister of Emigration; Gjorgi Naumov - Minister without Portfolio.
DA: Radmila Kiprijanova - Vice Premier; Pavle Trajanov - Minister of Interior; Vlado Kambovski -J ustice Minister; Aleksandar Dimitrov - Foreign Minister; Zanko Cado - Minister of Economy; Bobi Spirkovski - Minister of Traffic and Communication; Toni Popovski - Minister of Ecology; Adnan Kahil - Minister without Portfolio.
DPA: Bedredin Ibraimi - Vice Premier and Minister of Labor and Social Policy; Xhevdet Nasufi - Minister of Local Self - Government; Merie Rusani - Minister of Science; Ernat Fejzulahu - Minister without Portfolio.