SPA KEŽOVICA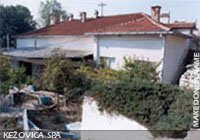 The spa is located near the shore of the river Bregalnica, in the south east part of Štip.
The temperature of the thermal mineral waters in the spa-resort reaches 620C, and the radioactivity reaches 42,82 moch units. The water is characteristic for its very favorable chemical composition: it contains sodium chloride, sodium sulfate, and sodium oxide.
The spa-water is believed to be curative of rheumatism, ankle and nervous system, diabetes, arteriosclerosis, high blood pressure, etc.
The unit for physio- therapy, included in the spa-resort, uses the most modern devices and treatment methods and possesses 110 beds. The main spa-resort possesses 40 beds while in the vicinity, there is also the hotel "Astibo" with 130 beds.
Phone: +389 32 308 560