HOLY SAVIOUR/SVETI SPAS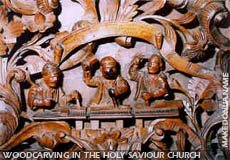 There are no churches in Skopje which have survived from the early Christian period. Many of them were destroyed during the Turkish rule and no traces of their former sites remain. One of them was the famous monastery St. George, mentioned in many records, which had control over the fairs in this area. By contrast to that, the surroundings of Skopje abound in medieval monuments.
St. Spas is one of the most remarkable churches in Skopje and is found at the entrance to the fortress. It was built either at the end of the 17th century or at the beginning of the 18th century. The church was damaged during the earthquake in 1963 and was soon repaired when new frescoes dating from the 16th century were discovered. This proves that the present church was built upon the base of an older one, which had probably burnt down while the Great Fire in 1689.

The Church was completed in its final form during the 19th century. The iconostasis and the icons were finished in 1828. St. Spas is famous for its ten meter long iconostasis which was executed in the deep carving technique. Here many well known fauna and flora illustrations and scenes from the Bible are found. The iconostasis was executed between 1819-1924 by the famous carvers from the Miacka area near Debar; Petre Filipovski - Garka, his brother Marko as well as Makarie Frčkovski who came from the village of Galicnik. The artists are represented on the iconostasis at the right hand end ie. the southern end: Petre Filipovski is drawing the plan and the two others have hammers and chisels in hand. The iconostasis is a collective artistic achievement. It is interesting to note that there are some figures in national dress in the biblical scenes, for example Herod`s Feast where the executioner is shown in Šiptar (Albanian) dress and Salome in the local Galičnik (Miyačka) style.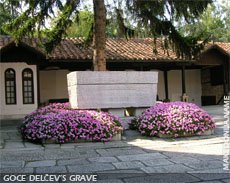 In the courtyard of the church there is the tomb of the famous Macedonian revolutionary Goce Delčev.