MONASTERY TRESKAVEC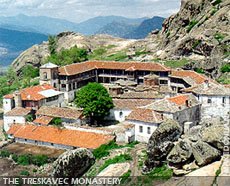 About ten kilometers from Prilep, in the arms of the massive rocks of Zlatovrv, there is the church Mother of God's Ascending, which with the dormitory shelters and the dining room of the Treskavec Monastery, provide God's energy and spiritual tranquility to this wonderful picturesque area. The highland offers a clear view of all Pelagonija Plane, the mountains Pelister, Babuna and Kajmakčalan. The evening street lights in all parts of Prilep witness different events of the inhabitants of Prilep, Bitola and Kruševo.
Treskavec Monastery is believed to have been built in the 13th Century, during the rule of the Byzantine emperors Andronic 2nd and Mihailo 3rd who, according to the writings on the frescoes at the entrance gate, were the first donors to this monastery. Its complex and diversified architecture points to the fact that the monastery was subjected to tearing down. Most probably, the monastery was renovated in the 14th Century, during the time of the Serb king Milutin. The church has one arc in its basis with a naos of a high dome and separated with pilastres on a few sides. On the outside, the altar apse is three sided on the east. Under the deep level of plaster walls of the northern paraclis, there are frescoes dating form the 14th Century. The the porch is also from this century with its two dome towers, placed on the west part of the church.
The frescoes in the Church of St. Mary Mother of God, date from different periods. The oldest ones are on the walls of the two towers from the 15th Century. They illustrate themes of the calendar and of saints presented in full size. The portraits of the monastery founders, placed on the east wall of the south porch, were painted in the second half of the 14th Century. The picture of the Mother of God is painted in the nisa of the south door of the naos. According to the painting technique, this fresco belongs to the period of the 15th Century.
The naos is enriched with frescoes that were made towards the end of the 15th Century. The frescoes in the first zone are particularly interesting. The depict figures of standing saints in full natural size. They are dressed in noblemen's' clothes and wear richly decorated hats on their heads. The frescoes were made by the hands of the Kruševo painting group from the 19th century are most remarkable.
Treskavec Monastery has other valuable artifacts. Most remarkable among them are the ones made in shallow wood carving: the two wing doors and the Emperor's Gate from the 16th Century, then the Kosmitos Cross from the 17th Century. It is worth mentioning the choir seats, the numerous holiday icons and the icons of the Apostles from the 17th and 18th century.