KIRIL PEJČINOVIĆ (1771-1845)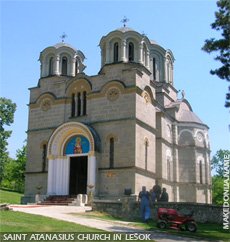 Kiril Pejčinović was educator who wrote his works in popular language and together with Joachim Krchovski represented the first generation of the contemporary Macedonian literature from the 19th century. He was born in the village of Tearce by Tetovo, in 1771 and died in 1845 in Lešok.
Kiril Pejčinović's literary activity is very modest in its volume and literary value. He left only several works for the future generations: "Ogledalo - The Mirror", "Uteshenie Greshnim", "Zitie Kneza Lazara - Comes Lazarus' Hagiography", "Epitaph" and several memoirs.The "Epitaph" is Pejčinović's latest work and represents biographical memoir written on his grave that says where he was born, educated and worked and where he wanted to be buried. It ends with the with the author's wish that he wants the future generations to remember him for his benevolence.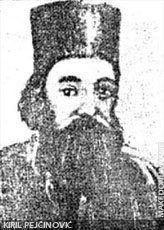 He used to work in the monastery that he built, by himself in Lešok, St. Atanasius and in the monastery of Marko, by Skopje. In 1817, Pejčinović got a permission by the Abdurahman Pasha (Paša - local representative of Ottoman authority) to restore the Lešok Monastery "St. Anastasius."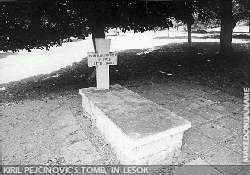 "Epitaph"
Tearce is where he was born
Prečista and Hilandar where he become a priest
Lešok is the place where he was educated
Under this tombstone is where he lies
From his absence
till Christ's second coming
He has begged of you, his beloved brothers
If you would like to read all this
To say: God save his soul,
Already in the grave he has been eaten by warms
Here lies Kiril's body
in this monastery and Lešok village
Let God bless the work.