CONSTANTINE (KONSTANTIN) MILADINOV (1830-1909)
The authors of the first verses written in Macedonian language, which are only historically valuable, are Kiril Pejčinović and Yordan Hadzi Konstantinov - Dzinot. Nevertheless, Konstantin (Constantine) Miladinov is considered to have been founder of the Macedonian artistic poetry, because his verses besides historical, have an artistic value as well.
Konstantin Miladinov was born in Struga, in 1830, where he first started his education. Later he went to study in Ioaninna (a city in Greece), and graduated philology in Athens. He had worked as a teacher for a short period and then left to Russia where he began with his studies. He edited the materials for "Zbornik na narodni umotvorenija - The Collection of Folk Songs, Riddles and Costumes", collected by his brother Dimitar Miladinov.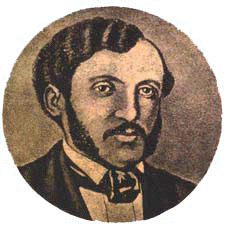 "Konstantin Miladinov"
He left Russia because of the cold weather. He published "Zbornik na narodni umotvorenija - The Collection of Folk Songs, Riddles and Costumes", supported by Josip Juraj Shtrosmaer, one of the patrons of the Slavonic literature. Arriving in Belgrade, he found out that his brother Dimitar had been imprisoned in Istanbul (Carigrad). He immediately went there, but he was reached by the same destiny as his brothers. Even though Shtrosmaer did everything in his power, to help them, they both died in the prison, first Konstantin, and two days later his brother Dimitar Miladinov.
He wrote only 15 songs, among which "Bisera", "T'ga za Jug", "Zelanie", "Golapche", and others. "Bisera", one of his most beautiful love songs is written in the spirit of the folk poetry. However, Konstantin Miladinov's most emotional and beatiful songs is "T'ga za jug - Longing for the south", written while he was staying in Russia. At that time he had already been ill, dissappointed and obsessed by the desire to come back in his native country.
Konstantin Miladinov is especially important for the Macedonian literature and history. He supported his brother in collecting folk songs and published their most essential work in the Macedonian literature - "Zbornik na narodni umotvorenija - The Collection of Folk Songs, Riddles and Costumes". Besides that, he is considered to have been founder of the Macedonian art poetry. He succeeded to create poetry, original in spirit and form. Thence all the anthologies of the Macedonian literature begin with his verses. All his verses, especially the song "T'ga za jug" have been translated in many language.
Every year, in his and his brother Dimitar's honor, in their native town, one of the biggest poetry festivals in the world is held - Struga Poetry Evenings, in which poets all around the world take part.
Longing for the south (T'ga za jug)
If I had an eagle's wings
I would rise and fly on them
To our shores, to our own parts,
To See Stambol, to See Kukuš;
And to watch the sunrise: is it
Dim there too, as it is here?
If the sun still rises dimly,
If it meets me there as here,
I'll prepare for further travels,
I shall flee to other shores
Where the sunrise, greets me brightly,
And the sky is sewn with the stars.
It is dark here, dark surrounds me,
Dark for covers all the earth,
Here are frost and snow and ashes,
Blizzards and harsh winds abound,
Fogs all around, the earth is ice,
And in the breast are cold, dark thoughts.
No, I cannot stay here, no;
I cannot upon this frosts.
Give me wings and I will don them;
I will fly to our own shores,
Go once more to our own places,
Go to Ohrid and to Struga.
There the sunrise warms the soul,
The sun gets bright in mountain woods:
Younder gifts in great profusion
Richly spread by nature's power.
See the clear lake stretching white-
Or bluely darkened by the wind,
Look you at the plains or mountains:
Beauty' everywhere divine.
To pipe there to my heart's content!
Ah ! let the sun set, let me die.