Kumanovo
About Kumanovo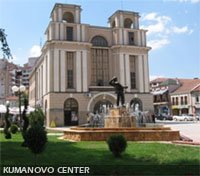 Kumanovo is a city located in the northern part of the Republic of Macedonia, some 10 km from Tabanovce, the border crossing point with Serbia, 40 km away from Skopje, 44 km away from Sveti Nikole and 60 km from Kriva Palanka.
It has 100,482 residents and located on altitude of 342 meters above the sea level. Kumanovo is one of the most important cities in Macedonia (economic center of prosperous agricultural surroundings). Kumanovo is important merchant, industry, metal-processing and agricultural center. Kumanovo represents a multiethnic community, where Macedonian majority lives with ethnic Albanian, Serb & Turk and Roma (Gypsy) minority.
Kumanovo history
Kumanovo is well known city because of the uprising against the German & Bulgarian ocupators in the Second world war. The citizens of Kumanovo, on October 11th, as those the people of Prilep, held an anti-fascist uprising. Also during the Second Balkan war, here the Serbs won a decisive victory over the Ottoman Turks in 1912.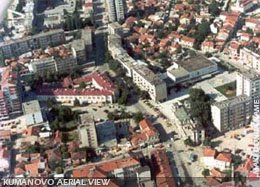 Kumanovo tourism
The region of Kumanovo is rich with medieval cultural monuments. Matejče monastery, dates from the 14th century and lies on the slopes of Skopska Crna Gora mountain (between Skopje and Kumanovo). On the way to Kriva Palanka, in the region of the villages of Mlado Nagoricane and Staro Nagoricane is a group of medieval churches, of which the church St. Gjorgi, in the village Staro Nagoričane (14th century), with frescoes of the same period done by the famous zoographs, Michael and Eutithie, is especially outstanding. Also in the Staro Nagoričane district, there is the famous ancient Kokino observatory. Also near Kumanovo is located the Proevce spa.